All news
December 10, 2021
26th ICOM General Conference, ICOM Prague 2022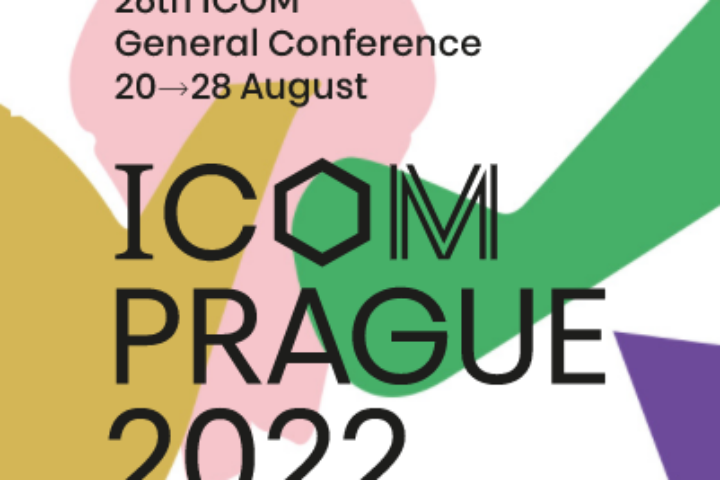 ICOM Prague 2022
"The Power of Museums"
Prague, capital of the Czech Republic and a magnificent open-air museum, will welcome the 26th ICOM General Conference in the week of 20–28 August 2022.
Museum professionals from around the world will put forward the topics and set the direction of the museum sector for the next three years at least.
We will be interested in the strength, position and capacity of museums in building a free, democratic and educated society, reactions of museums to the challenges and needs of the 21st century; and the ability to cope with the impact of the COVID-19 pandemic, both societal and economic.
The results of the search for a new definition of "museum" will be presented at ICOM Prague 2022.
Let's be there together!
Conference Outline
WHAT
ICOM Prague 2022
26 th ICOM General Conference
WHEN
20–28 August 2022
21–27 August 2022 – ICOM General Conference
21 and 28 August 2022 – Pre- and Post- Conference activities
WHERE
Prague Congress Centre
5. května 1640/65, 140 21 Prague, Czech Republic
+420 261 172 222
www.praguecc.cz
ABOUT
The Power of Museums is the main theme of ICOM Prague 2022. Museums in the 21st century have huge potential to influence the world around them and often stand at the beginning of a long chain of social development. Museums preserve the past and the present, interpret them and share them to the public for discussion – they have the power to make the world a better place.
Museums have the power to be the bearers of moral and ethical values.
Museums have a unique ability to explain that which is hard to understand and convey that which cannot be spoken. Themes, no matter how complicated, painful or unpleasant, that define the world are transformed in museums into art, knowledge and enlightenment. Museums have an irreplaceable power to explain, clarify and help build civil society, local and national identities and social responsibility among each member of our diverse communities.
Museums have the power to be initiators of positive changes and progress, and to be active resolvers of crises and unexpected situations.
Museums must react flexibly at the speed of the development of the world. They must look at the future and not lag behind, reacting to new situations and turn them into new opportunities. Museums, in all their unique forms, are places that bridge the past, present and future. In a similar way, they themselves are joined together and join the individual in the diverse cultural society. Museums cannot ignore social or technological development, should accept the digital reality of the 21st century and use it as a means of discussion and as a theme of discussion. Museums must also be prepared, however, for the crises and crisis situations that the modern world brings.
Museums have the power to lead by example, to build a more environmentally friendly and sustainable world.
Museums join various human activities under one roof. They create or contribute to a wide range of projects – they build, construct, care for collections and historic buildings and this all demands a wealth of fields, often highly specialised, that all come together in museums.
Museums, as public institutions, can be a visible example of responsible and sustainable management in accordance with nature and the environment. Museums are at the heart of creative industries and have always been important actors in travel and tourism. At a time when over-tourism presents challenges, they can contribute to the regulation and channelling of the excess tourist burden of saturated destinations. These days, museums have an important task in encouraging society to redevelop mobility. Human society is based on social interactions and museums are one of the most important places where this is enabled.
Museums have the power to make the world a better place!
As part of its inclusive approach confirmed by its Strategic Plan, the International Council of Museums (ICOM) is committed to support approximately 25 young members from preferably Category 3 and 4 Countries to attend the 26th ICOM General Conference that will be held in 20-28 August 2022 in Prague, Czechia.
The grantees will have the opportunity to make new contacts and develop their capacities and knowledge which they will be able later to share with colleagues in their home countries. ICOM is very grateful that these grants are made possible with support from the Getty Foundation.
You will find the call for grants and the online form (deadline: 15 February 2022) through this <link>.
Please read carefully the eligibility criteria before applying. Incomplete applications will not be considered.
Do not hesitate to contact us with any query you might have : <grants[at]icom.museum>.
With best wishes,
The ICOM Secretariat